Wow, when things are happening, they seem to happen quickly. Already, with the 2020 season not having started, we know have the new 2021 Tampa Bay Rays full schedule.
The schedule is pretty much back to normal. 162 games. The Rays play everyone in the American League, and their National League opponents will be the National League East (Mets, Phillies, Marlins, Braves and Nationals). In fact, the season for the Rays will begin with interleague play in Miami on April 1, followed by a road series against the Boston Red Sox. The Rays will have their home opener on April 9 against the New York Yankees. You can find a printable version of the schedule here.
Unlike the 2020 season in which the All-Star Game was cancelled for the shorter season, the All-Star Game returns in 2021.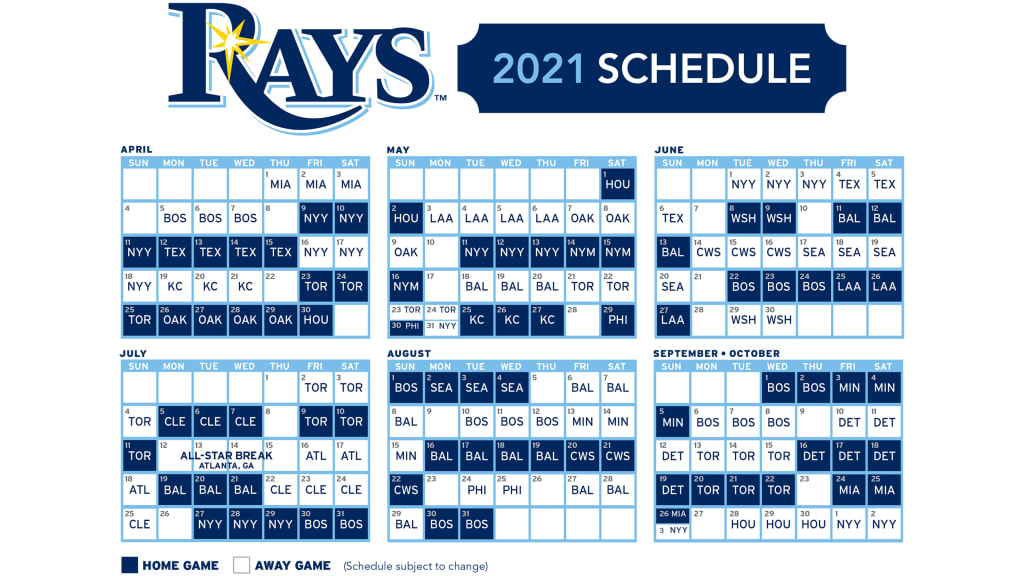 They've been practicing at Tropicana Field!
ST PETERSBURG, FLORIDA - JULY 03: A general view of Tropicana Field during their Summer Workout on July 03, 2020 in St Petersburg, Florida. (Photo by Mike Ehrmann/Getty Images)

ST PETERSBURG, FLORIDA - JULY 03: Blake Snell #4 of the Tampa Bay Rays works out during their Summer Workout at Tropicana Field on July 03, 2020 in St Petersburg, Florida. (Photo by Mike Ehrmann/Getty Images)

ST PETERSBURG, FLORIDA - JULY 03: A general view of Tropicana Field during their Summer Workout on July 03, 2020 in St Petersburg, Florida. (Photo by Mike Ehrmann/Getty Images)

ST PETERSBURG, FLORIDA - JULY 03: Hunter Renfroe #11 of the Tampa Bay Rays works out during their Summer Workout at Tropicana Field on July 03, 2020 in St Petersburg, Florida. (Photo by Mike Ehrmann/Getty Images)

ST PETERSBURG, FLORIDA - JULY 03: A member of the grounds crew rakes the field during their Summer Workout at Tropicana Field on July 03, 2020 in St Petersburg, Florida. (Photo by Mike Ehrmann/Getty Images)

ST PETERSBURG, FLORIDA - JULY 03: Manager Kevin Cash #16 of the Tampa Bay Rays works out during their Summer Workout at Tropicana Field on July 03, 2020 in St Petersburg, Florida. (Photo by Mike Ehrmann/Getty Images)

ST PETERSBURG, FLORIDA - JULY 03: A general view of Tropicana Field during their Summer Workout on July 03, 2020 in St Petersburg, Florida. (Photo by Mike Ehrmann/Getty Images)

ST PETERSBURG, FLORIDA - JULY 03: Yoshitomo Tsutsugo #25 of the Tampa Bay Rays works out during their Summer Workout at Tropicana Field on July 03, 2020 in St Petersburg, Florida. (Photo by Mike Ehrmann/Getty Images)

ST PETERSBURG, FLORIDA - JULY 03: Nick Anderson #70 of the Tampa Bay Rays works out during their Summer Workout at Tropicana Field on July 03, 2020 in St Petersburg, Florida. (Photo by Mike Ehrmann/Getty Images)

ST PETERSBURG, FLORIDA - JULY 03: Yandy Diaz #2 of the Tampa Bay Rays works out during their Summer Workout at Tropicana Field on July 03, 2020 in St Petersburg, Florida. (Photo by Mike Ehrmann/Getty Images)

ST PETERSBURG, FLORIDA - JULY 03: Yoshitomo Tsutsugo #25 of the Tampa Bay Rays works out during their Summer Workout at Tropicana Field on July 03, 2020 in St Petersburg, Florida. (Photo by Mike Ehrmann/Getty Images)

ST PETERSBURG, FLORIDA - JULY 03: Yoshitomo Tsutsugo #25 of the Tampa Bay Rays works out during their Summer Workout at Tropicana Field on July 03, 2020 in St Petersburg, Florida. (Photo by Mike Ehrmann/Getty Images)

ST PETERSBURG, FLORIDA - JULY 03: Yoshitomo Tsutsugo #25 of the Tampa Bay Rays works out during their Summer Workout at Tropicana Field on July 03, 2020 in St Petersburg, Florida. (Photo by Mike Ehrmann/Getty Images)

ST PETERSBURG, FLORIDA - JULY 03: Ji-Man Choi #26 of the Tampa Bay Rays works out during their Summer Workout at Tropicana Field on July 03, 2020 in St Petersburg, Florida. (Photo by Mike Ehrmann/Getty Images)

ST PETERSBURG, FLORIDA - JULY 03: A member of the Tampa Bay Rays looks on during their Summer Workout at Tropicana Field on July 03, 2020 in St Petersburg, Florida. (Photo by Mike Ehrmann/Getty Images)

ST PETERSBURG, FLORIDA - JULY 03: Ji-Man Choi #26 of the Tampa Bay Rays works out during their Summer Workout at Tropicana Field on July 03, 2020 in St Petersburg, Florida. (Photo by Mike Ehrmann/Getty Images)

ST PETERSBURG, FLORIDA - JULY 03: Blake Snell #4 of the Tampa Bay Rays works out during their Summer Workout at Tropicana Field on July 03, 2020 in St Petersburg, Florida. (Photo by Mike Ehrmann/Getty Images)

ST PETERSBURG, FLORIDA - JULY 03: Blake Snell #4 of the Tampa Bay Rays works out during their Summer Workout at Tropicana Field on July 03, 2020 in St Petersburg, Florida. (Photo by Mike Ehrmann/Getty Images)

ST PETERSBURG, FLORIDA - JULY 03: Blake Snell #4 of the Tampa Bay Rays works out during their Summer Workout at Tropicana Field on July 03, 2020 in St Petersburg, Florida. (Photo by Mike Ehrmann/Getty Images)

ST PETERSBURG, FLORIDA - JULY 03: Austin Meadows #17 of the Tampa Bay Rays works out during their Summer Workout at Tropicana Field on July 03, 2020 in St Petersburg, Florida. (Photo by Mike Ehrmann/Getty Images)

ST PETERSBURG, FLORIDA - JULY 03: Austin Meadows #17 of the Tampa Bay Rays works out during their Summer Workout at Tropicana Field on July 03, 2020 in St Petersburg, Florida. (Photo by Mike Ehrmann/Getty Images)

ST PETERSBURG, FLORIDA - JULY 03: Yoshitomo Tsutsugo #25 of the Tampa Bay Rays works out during their Summer Workout at Tropicana Field on July 03, 2020 in St Petersburg, Florida. (Photo by Mike Ehrmann/Getty Images)

ST PETERSBURG, FLORIDA - JULY 03: José Alvarado #40 of the Tampa Bay Rays works out during their Summer Workout at Tropicana Field on July 03, 2020 in St Petersburg, Florida. (Photo by Mike Ehrmann/Getty Images)

ST PETERSBURG, FLORIDA - JULY 03: Nate Lowe #35 of the Tampa Bay Rays works out during their Summer Workout at Tropicana Field on July 03, 2020 in St Petersburg, Florida. (Photo by Mike Ehrmann/Getty Images)

ST PETERSBURG, FLORIDA - JULY 03: Brandon Lowe #8 of the Tampa Bay Rays works out during their Summer Workout at Tropicana Field on July 03, 2020 in St Petersburg, Florida. (Photo by Mike Ehrmann/Getty Images)

ST PETERSBURG, FLORIDA - JULY 03: Mike Brosseau #35 of the Tampa Bay Rays works out during their Summer Workout at Tropicana Field on July 03, 2020 in St Petersburg, Florida. (Photo by Mike Ehrmann/Getty Images)